Back
U-life Upgrades to ETX from Harmonic
06 January 2022
Leading Taiwanese TV shopping channel, U-Life, renews its confidence in Etere with an upgrade to Etere ETX from Harmonic.
U-Life has implemented the market-proven Etere ETX Channel-in-a-Box, to manage master control workflows and improve operational efficiencies. The software-based architecture allows it to deliver all the functionalities of a traditional playout system on a reliable and streamlined software interface. The upgrade provides a scalable and flexible playout solution that boosts operational efficiencies and enables workflows that expands as the business evolves.

U-Life is a long-time customer of Etere and chose ETX to streamline the master control workflows and playout automation of the channel. Etere ETX is a tightly integrated 4k-ready channel-in-a-box software that works with all commonly-used HD, SD digital video, audio, and graphics platforms without the need for any additional cumbersome hardware or interfaces. The software also supports IP, SDI, and NDI inputs and outputs. In addition, ETX can simultaneously manage different ingest/playout channels, making it a versatile multi-channel solution capable of video acquisitions, real-time compression, and network transmission with full support for multiple video codecs between channels. Etere also readily integrates with the existing technologies of the station, making it a flexible solution to implement. The software features an intuitive graphical user interface for an efficient and simplified operation.

Key Features
■ Multiple graphics and webGL graphics overlays
■ Capture web pages as live multimedia sources
■ 4K, HD, and SD with Up-and-Down conversion
■ RTMP input and integrated time delay
■ Serves as an RTMP sender or RTSP receiver
■ Full IP support for both HD and SD videos supports NewTek NDI
■ Supports multiple layers of graphics
■ Fully compliant DVB (Digital Video Broadcasting) stream
■ Supports Microsoft ReFS File System, cloud-ready
■ The included graphics engine allows overlay of static/animated logos and crawlers on eight layers
■ Able to perform IP in and IP out, with multiple frame rates and independent IP out services
■ Integrated IT-based master control with multi-channel ingest/playout
■ Easy insertion of closed captions including CEA 608 and CEA 708 with ETX inserter
■ Create live subtitling seamlessly with ETX inserter and time delay
■ SDI output with support for selected cards (SDI or IP) including Blackmagic, Matrox
■ File formats include LXF, MOV, MXF, GXF, ASF, MPG-TS, MPG-PS, AVI, DV and MKV
■ Video codecs include DVCPRO, MPG1, MPG2, MPG4, H.264, HEVC/ H.265, DNxHD, ProRes
■ Audio codecs include AAC, MP2, MP3, Flac
■ Minimum video duration 75 frames, can vary with format
■ Graphics files include TGA, AVI, MOV, SWF, PNG, JPEG, GIF
■ Picture-in-Picture (PIP) capabilities: Insert multiple overlays of live graphics and videos over a streaming video
■ Supports 64-bits and microservices

Etere empowers broadcasters with complimentary software updates for all users on a support contract. With each new release, you can look forward to advancement in capabilities and functionalities.

The system design was designed by Etere and managed by Etere's system integrator in Taiwan, N-TYPE incorporation.
Sales
Fabio Gattari
Support Team
Luca Crucianelli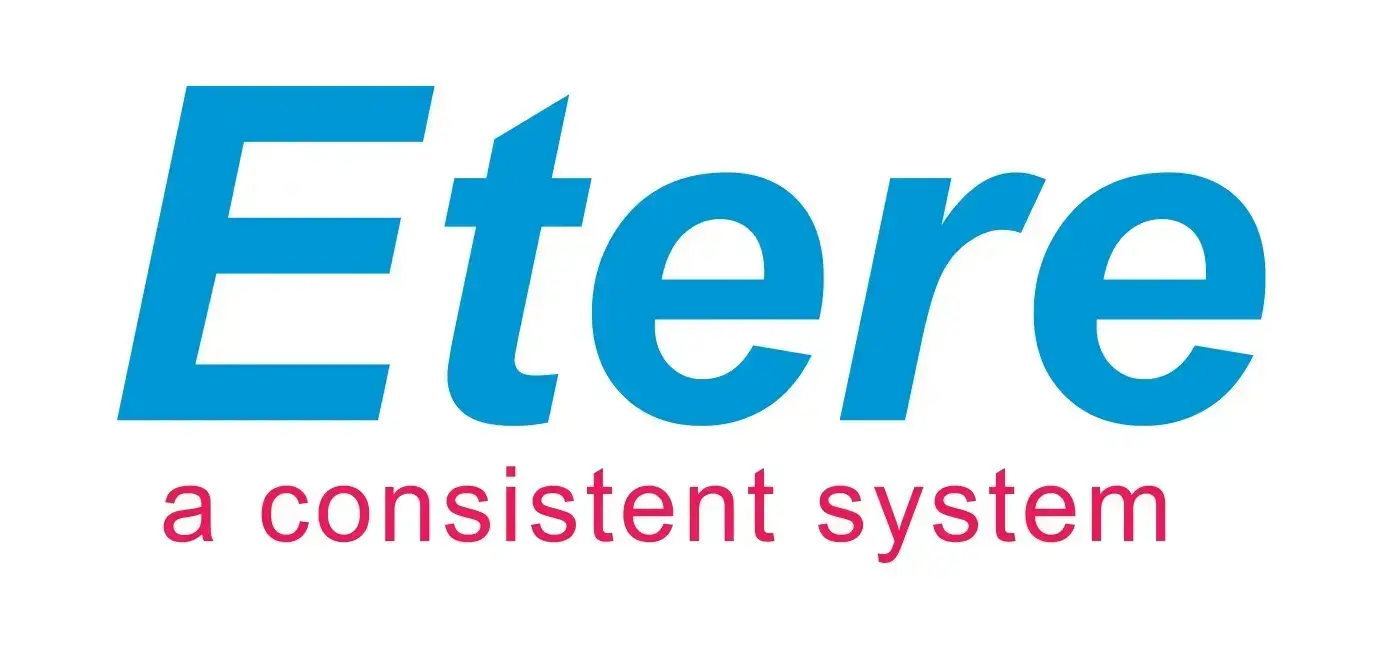 Since its beginnings in 1987, Etere has been preparing users for the future. Etere is a worldwide provider of broadcast and media software solutions backed by its mark of excellence in system design, flexibility, and reliability. Engineered in Singapore, the revolutionary concept of Etere Ecosystem promotes real-time collaborations and enhances operational efficiency across the entire enterprise. Etere Ecosystem software solutions manage the end-to-end media workflow and feature an integrative Web and Windows architecture that is customizable to fit perfectly in any system.

Etere delivers on its service excellence commitment with a 24/7 worldwide support and inclusive software updates. Its portfolio of digital technologies and market-proven remote/on-site services such as consultancy, training, installation, and demonstrations are ready to run with your business no matter where you are. Etere enhances your adaptability for the future and empowers you with the most innovative software tools to drive your business to greater heights.

To find a media management strategy that works for your business, visit www.etere.com
U-Life is a home shopping channel based in Da'an District, Taipei (Taiwan). It is a sister TV station of the Eastern Home Shopping (EHS). In 2010, U-LIfe channel was launched to cater for the domestic TV shopping market. U-Life incorporates a convenient and affordable shopping experience for consumers through the use of TV, video and the internet to promote their shopping platform.
www.u-mall.com.tw/
About Etere
Since its beginnings in 1987, Etere has been preparing users for the future. Etere is a worldwide provider of broadcast and media software solutions backed by its mark of excellence in system design, flexibility, and reliability. Engineered in Singapore, the revolutionary concept of Etere Ecosystem promotes real-time collaborations and enhances operational efficiency across the entire enterprise. Etere Ecosystem software solutions manage the end-to-end media workflow and feature an integrative Web and Windows architecture that is customizable to fit perfectly in any system. Etere delivers on its service excellence commitment with a 24/7 worldwide support and inclusive software updates. Its portfolio of digital technologies and market-proven remote/on-site services such as consultancy, training, installation, and demonstrations are ready to run with your business no matter where you are. Etere enhances your adaptability for the future and empowers you with the most innovative software tools to drive your business to greater heights. To find a media management strategy that works for your business, visit www.etere.com
About U-Life
U-Life is a home shopping channel based in Da'an District, Taipei (Taiwan). It is a sister TV station of the Eastern Home Shopping (EHS). In 2010, U-LIfe channel was launched to cater for the domestic TV shopping market. U-Life incorporates a convenient and affordable shopping experience for consumers through the use of TV, video and the internet to promote their shopping platform. www.u-mall.com.tw/