Back
EBC Selects Etere Media Asset Management (MAM) for a More Efficient Workflow
28 July 2022
Brazilian TV network, EBC, selects Etere MAM and extends its strong relationship with Etere as a testament to its confidence in the Etere Ecosystem.
Empresa Brasil de Comunicação (EBC) has implemented Etere Media Asset Management (MAM) to manage its end-to-end workflows. The fully integrated software architecture helps EBC streamline its workflows and improve operational efficiencies across the five channels they manage. The system also offers the flexibility and scalability to expand and scale quickly even as their business requirements evolve. EBC is a long-term customer of Etere that has experienced the benefits of the Etere Ecosystem. Moving to the Etere MAM provides many benefits for EBC, including easy access to all stored content and enhanced operational efficiency across the end-to-end workflow. Etere Ecosystem readily and easily integrates with EBC's existing technology.

The system's successful launch follows a proof of concept that demonstrates a future-proof approach to meet EBC's needs and empowers users with new levels of flexibility and performance. Etere Ecosystem allows EBC to quickly and seamlessly grow its storage capacity to accommodate future technology enhancements and business expansions.

The new system was designed and implemented by the Etere professional services team. Core features of the system include automatic and efficient management of metadata, ingest, transcoding, content retrieval, metadata management, and asset distribution.

Etere MAM ensures that vital information is available to everyone through streamlining the digital workflow. Centralized management of content and its associated metadata increases operational efficiency and maximizes the return on investment of digital media.

Furthermore, Etere Media Asset Management (MAM) also features automated content processing that can detect new content assets automatically. Effective and integrated QC workflows follow the automated ingest.

Besides linear media assets, Etere MAM effectively manages non-linear media assets. Etere empowers users to publish or distribute media in many ways to increase the monetization of the materials.

Key Features of Etere Media Asset Management
■Complete modular solutions that can manage the end-to-end media lifecycle, including ingest, transcoding, content retrieval, metadata association, and asset distribution
■Compatible with Nuance Dragon for automatic audio and file transcriptions
■Automated content processing that can detect new content assets
■Automated Ingest followed by efficient and integrated QC workflows
■Connects to Wowza for live and VOD content
■Generation of multiformat, multipurpose files for delivery to multiple platforms
■Connects with Etere Browsing to support the streaming of VC-1 codecs
■Rights structure to protect intellectual property, including digital watermarking
■Etere Nunzio Newsroom integration for real-time access to media content(MOS compliant)
■Etere HSM integration to transfer files between near-line, libraries, and playout servers
■Compliant with FFV1 Format
■Complete VOD management, including metadata creation for VOD, automated QC and transcoding processes, delivery of video, images, and trailers to streaming platforms, MD5 checksum capabilities to preserve data integrity after file movements, and management of asset versioning with automatic hierarchical assets structure that makes it easy to retrieve, share and distribute content
■Manages Multi-Language Content

For more information, please get in touch with us at info@etere.com.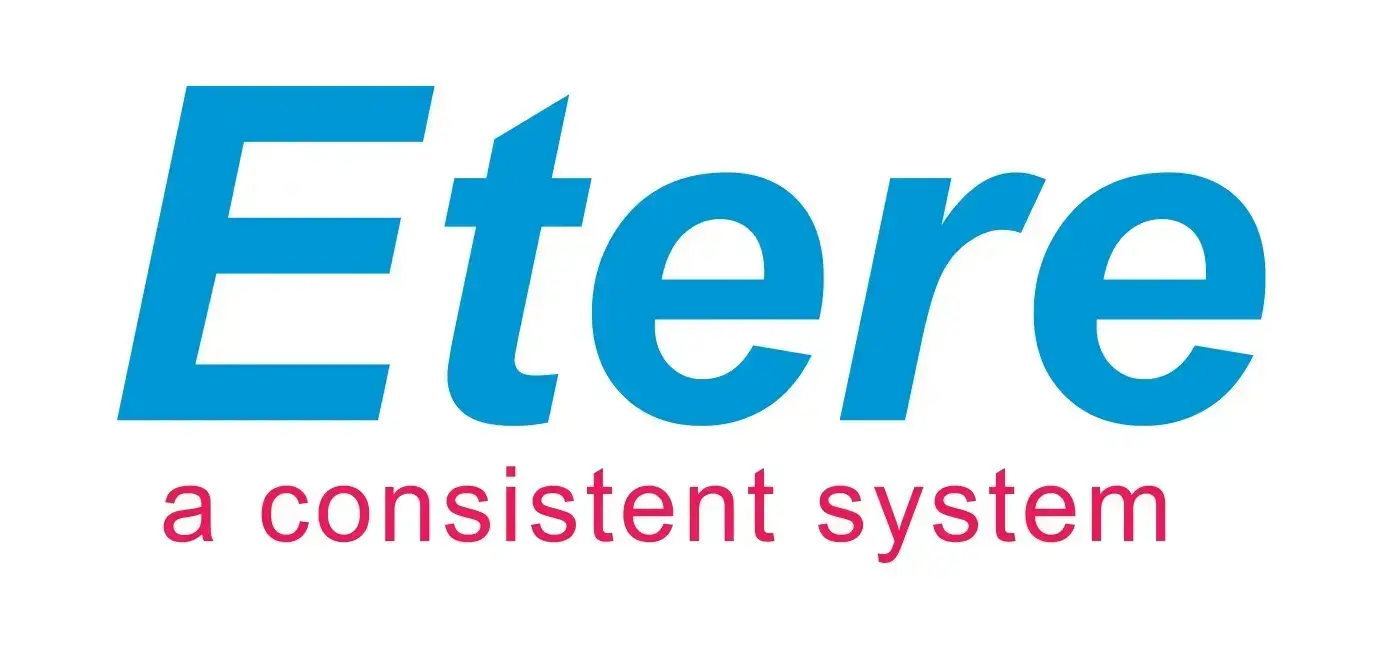 Since its beginnings in 1987, Etere has been preparing users for the future. Etere is a worldwide provider of broadcast and media software solutions backed by its mark of excellence in system design, flexibility, and reliability. The revolutionary concept of Etere Ecosystem promotes real-time collaborations and enhances operational efficiency across the entire enterprise. Etere Ecosystem software solutions manage the end-to-end media workflow and feature an integrative Web and Windows architecture that is customizable to fit perfectly in any system.

Etere delivers on its service excellence commitment with a 24/7 worldwide support and inclusive software updates. Its digital technologies and market-proven remote/on-site services such as consultancy, training, installation, and demonstrations are ready to run with your business no matter where you are. Etere enhances your adaptability for the future and empowers you with the most innovative software tools to drive your business to greater heights.

To find a media management strategy that works for your business, visit www.etere.com
Join the conversation at info@etere.com
Empresa Brasil de Comunicação (EBC) is a Brazilian public company, created in 2007 to manage the federal government's broadcast network, TV Brasil. EBC is responsible for the content and management of TV Brasil, TV Brasil Internacional, eight EBC radio stations (Rádio Nacional do Rio de Janeiro, Rádio Nacional AM de Brasília, Rádio Nacional FM de Brasília, Rádio Nacional da Amazônia, Rádio Nacional do Alto Solimões, Rádio MEC AM do Rio de Janeiro, Rádio MEC FM do Rio de Janeiro, e Rádio MEC AM de Brasília), the news agency Agência Brasil, audio news agency Radioagência Nacional and the EBC Portal. As part of the services provided by the holding, EBC is responsible for the government's official channel TV NBR, and the radio program A Voz do Brasil. EBC is a station that is constantly improving its programming, always focused on the interest of the citizen. www.ebc.com.br
About Etere
Since its beginnings in 1987, Etere has been preparing users for the future. Etere is a worldwide provider of broadcast and media software solutions backed by its mark of excellence in system design, flexibility, and reliability. The revolutionary concept of Etere Ecosystem promotes real-time collaborations and enhances operational efficiency across the entire enterprise. Etere Ecosystem software solutions manage the end-to-end media workflow and feature an integrative Web and Windows architecture that is customizable to fit perfectly in any system. Etere delivers on its service excellence commitment with a 24/7 worldwide support and inclusive software updates. Its digital technologies and market-proven remote/on-site services such as consultancy, training, installation, and demonstrations are ready to run with your business no matter where you are. Etere enhances your adaptability for the future and empowers you with the most innovative software tools to drive your business to greater heights. To find a media management strategy that works for your business, visit www.etere.com Join the conversation at info@etere.com
About Empresa Brasil de Comunicação (EBC)
Empresa Brasil de Comunicação (EBC) is a Brazilian public company, created in 2007 to manage the federal government's broadcast network, TV Brasil. EBC is responsible for the content and management of TV Brasil, TV Brasil Internacional, eight EBC radio stations (Rádio Nacional do Rio de Janeiro, Rádio Nacional AM de Brasília, Rádio Nacional FM de Brasília, Rádio Nacional da Amazônia, Rádio Nacional do Alto Solimões, Rádio MEC AM do Rio de Janeiro, Rádio MEC FM do Rio de Janeiro, e Rádio MEC AM de Brasília), the news agency Agência Brasil, audio news agency Radioagência Nacional and the EBC Portal. As part of the services provided by the holding, EBC is responsible for the government's official channel TV NBR, and the radio program A Voz do Brasil. EBC is a station that is constantly improving its programming, always focused on the interest of the citizen. www.ebc.com.br