Back
Etere at NATEXPO 2022
10 November 2022
For a media management strategy that works for your business, get in touch with us at info@etere.com to schedule a meeting at NATEXPO 2022, Booth A04, VDNH Exhibition Centre, Moscow, Russia, from November 16 - 18 2022. We hope to see you there!
Etere at NAT Expo 2022
Date: November 16 - 18 2022
Venue: VDNH Exhibition Centre, Moscow, Russia
Booth: A04
To schedule a meeting, contact us at info@etere.com

NATEXPO provides an ideal platform for us to connect with our customers and partners in Russia and beyond. Etere will be highlighting its range of highly scalable and flexible solutions that are designed to streamline media operations, increase cost efficiency and improve quality at every stage of the workflow. We hope to see you at NATEXPO 2022, Booth A04!

Etere Ecosystem
Etere Ecosystem is a total software solution able to connect and manage the complete lifecycle of a media and broadcast company. Etere Ecosystem can connect all the activities of a multimedia company and integrate internal and external management information across an entire organization with the use of customizable and automated workflows, becoming the most effective way to control all business processes and costs while providing a significant advantage: integration of all various processes with consequent saving of time and expenses.
■ Efficiency: Etere Ecosystem eliminates manual processes and streamlines the business processes and information exchanges between all departments
■ Cloud Ready, Etere Ecosystem allows you to use Hybrid Cloud
■ Integrated Information: Etere Ecosystem taps on an integrated information database that makes it easy to update information
■ Integrates with Active Directory to manage even complex hierarchical user permissions
■ Reporting: Etere Ecosystem makes creating and customizing reports easy, even for complex data requests. Updating and maintaining the reports is also easy. Management users can run overview reports efficiently to understand operations
■ Customer Service: With Etere Ecosystem, the business can provide better services with faster and more accurate access to customers' information and account history
■ Enhanced security with more accurate, consistent, and secured access to data
■ Automated and customizable workflows for better accuracy and operational efficiency
■ Resource management and agenda features allow assignments, approvals, and tracking of work orders, tasks, and appointments across multiple departments in the organization
■ Complete visibility of essential processes across various departments of an organization with a unified reporting system
■ With a shared information repository and inter-connected workflows, real-time access to information is available, and statues and statistics can be generated easily in real-time
■ Business Intelligence Insights: With a clear view of operational performance, performance bottlenecks and potential problems can be identified quickly
■ Modular system: With a modular architecture, businesses can implement solutions based on their organization's needs, with effortless scalability and upgrades
■ A centralized storage/backup of all enterprise data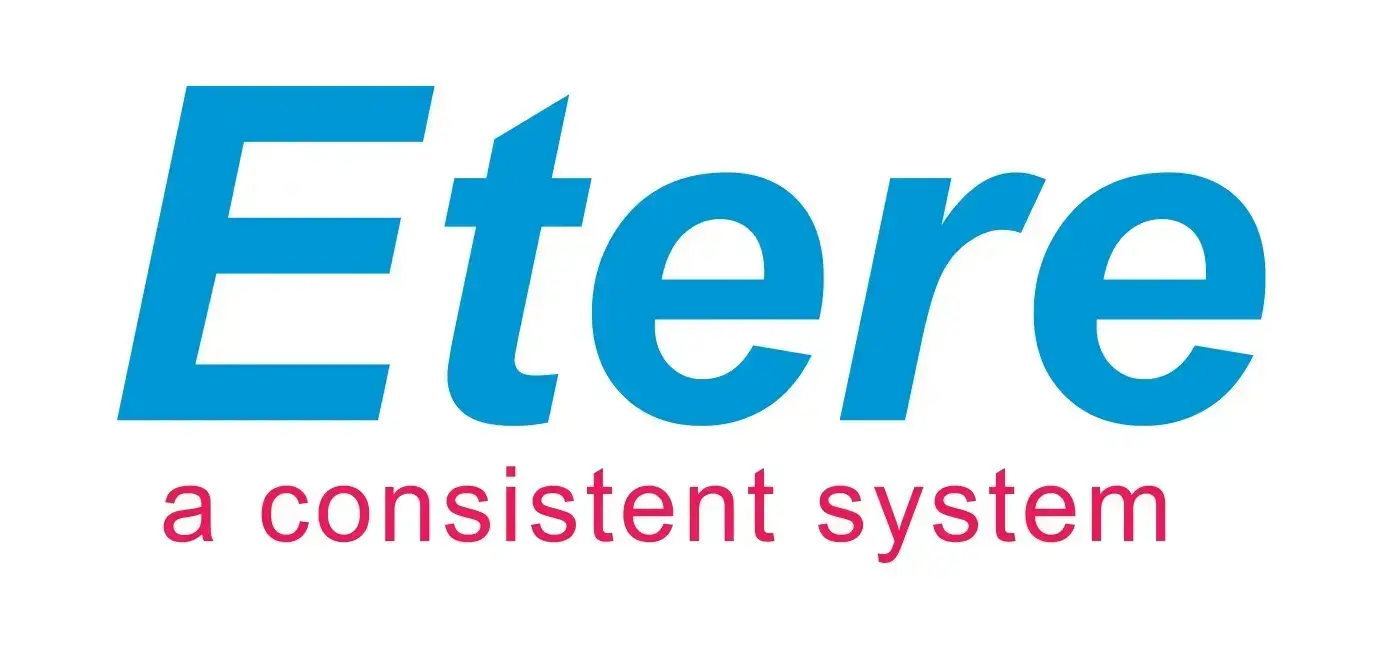 Since its beginnings in 1987, Etere has been preparing users for the future. Etere is a worldwide provider of broadcast and media software solutions backed by its mark of excellence in system design, flexibility, and reliability. The revolutionary concept of Etere Ecosystem promotes real-time collaborations and enhances operational efficiency across the entire enterprise. Etere Ecosystem software solutions manage the end-to-end media workflow and feature an integrative Web and Windows architecture that is customizable to fit perfectly in any system.

Etere delivers on its service excellence commitment with a 24/7 worldwide support and inclusive software updates. Its portfolio of digital technologies and market-proven remote/on-site services such as consultancy, training, installation, and demonstrations are ready to run with your business no matter where you are. Etere enhances your adaptability for the future and empowers you with the most innovative software tools to drive your business to greater heights.

To find a media management strategy that works for your business, visit www.etere.com
NATEXPO is an annual international exhibition and conference focused on technologies, professional equipment and services for Television, Radio, and New Media Broadcasting and cinema production.
NATEXPO provides an ideal platform for international business development and technology exchange and serves as the perfect gateway to the Russian market, both on a national and regional level, for equipment manufacturers, technology providers, content producers, channel suppliers, and service operators.
With its mission to facilitate exclusive displays of traditional and new multimedia technologies alongside live service and program demonstrations, NATEXPO maintains a distinctively prominent position on the agenda of key industry players.
www.natexpo.ru
About Etere
Since its beginnings in 1987, Etere has been preparing users for the future. Etere is a worldwide provider of broadcast and media software solutions backed by its mark of excellence in system design, flexibility, and reliability. The revolutionary concept of Etere Ecosystem promotes real-time collaborations and enhances operational efficiency across the entire enterprise. Etere Ecosystem software solutions manage the end-to-end media workflow and feature an integrative Web and Windows architecture that is customizable to fit perfectly in any system. Etere delivers on its service excellence commitment with a 24/7 worldwide support and inclusive software updates. Its portfolio of digital technologies and market-proven remote/on-site services such as consultancy, training, installation, and demonstrations are ready to run with your business no matter where you are. Etere enhances your adaptability for the future and empowers you with the most innovative software tools to drive your business to greater heights. To find a media management strategy that works for your business, visit www.etere.com
About NATEXPO
NATEXPO is an annual international exhibition and conference focused on technologies, professional equipment and services for Television, Radio, and New Media Broadcasting and cinema production. NATEXPO provides an ideal platform for international business development and technology exchange and serves as the perfect gateway to the Russian market, both on a national and regional level, for equipment manufacturers, technology providers, content producers, channel suppliers, and service operators. With its mission to facilitate exclusive displays of traditional and new multimedia technologies alongside live service and program demonstrations, NATEXPO maintains a distinctively prominent position on the agenda of key industry players. www.natexpo.ru